The OptoDrive® module
All the OptoDrive LED-modules are dimmable and have various configuration possibilities for lenses and drivers. The modules are available in a huge variety of shapes and sizes, still with a consistent formfactor over time.
Shape and Size
The OptoDrive module is a highly variable platform. The connectors and lenses have the same formfactor over the years and our oldest module is still a bestseller.
With several shapes and sizes you will find a version that fits your design. For sure!
Hexagonal
The hexagonal modules are designed to fit in round, square or hexagonal fittings. The hexagonal designs are available in three different versions – Felicia, Clara and Svea.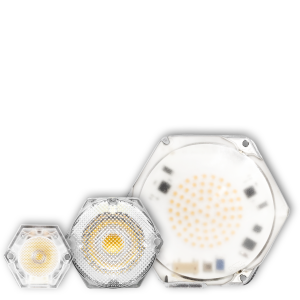 Round
For small to big round luminaires we have our round LED-modules in different shapes. From the smallest Steffi, to the medium sized Crystal and Lilly to the bigger Sanna.

Linear
As a replacement for strip lights, LED is the perfect choice. The linear modules are available in four versions – Gustav and Anders in fixed lengths and the extendable Victor and Theo.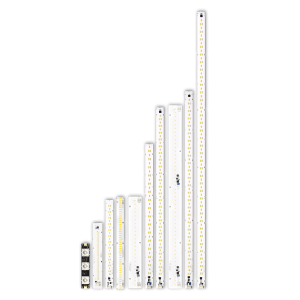 Power Supply
Our platform is developed to provide several solutions for power supply.In order for you to have the best possibilities to develop your ideas for aluminere we have three versions.
AC – no need for a driver
You are able to connect the LED-module directly to 230VAC mains and won't need a bulky driver. This allows freedom to design slim fixtures without making place or need extra cables for a driver. And without an extra component there is less risk of failure.
230VAC
ID – built in driver
For our low voltage solutions we mount the driver directly on board. For customers in need of quality DC LED-modules, for example high-end design or medical. We have a range of assessories branded DimLight with dimming for PWM, encoders or Dali connectability.
12-36VDC
ED – external driver required
Certain applications require more functionality on driver. In this case, the LED-module is stripped of components – all features are located to an external driver. This might be the case when you connect the fixtures to a big network with for example either Dali or DMX.
350-700mA
Simplicity
With the OptoDrive™ modules, all development is made to make it easy foryou as a lighting manufacturer. We have several versions that fits easy in avariety of fixtures, and when you find a module that fits – we won't change it.

Features
All OptoDrive AC LED-modules are dimmable ready to be installed directly into your luminaire. With the new FlickerFree and WireLess options we aim to deliver a product, standardized and flexible enough for you to use in all your fixtures.
Expansion port
Our modules SVEA and THEO are equipped with an expansion port for extended functionality. Your fixture can be wireless with bluetooth or ZigBee within a minute, just plug in a card in the expansion port. There are also sensor cards for motion and daylight detection available.
Loading